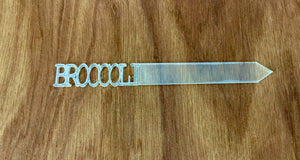 Whether you're getting an early start on planting indoors or planting directly outside these plant markers are great for smaller gardens! Made from acrylic you'll never have to guess again which row you planted your carrots in!
Choose from some of the most common combinations or add the number of markers you would like to your order and specify what you would like on each marker in notes at checkout.
Each marker measures 0.5" x 5"
Herb collection includes: Basil, Chives, Cilantro, Dill, Mint, Oregano, Parsley, Rosemary, Sage, and Thyme
Vegetable collection 1 includes: Beans, Carrots, Cucumber, Kale, Lettuce, Peas, Peppers, Spinach, Tomatoes, and Zucchini
Vegetable collection 2 includes: Beans, Beets, Broccoli, Carrots, Corn, Cucumber, Radish, Parsnip, Peas, and Potatoes
Custom pack of 10: Add this to your cart and specify what you would like each marker to say in notes at checkout.
As always, if you have any questions feel free to send us a message!